MJCBD Afghan Delta 8 Gummies 1000mg 4ct (250mg per gummy) Rainbow
$19.99 - or subscribe and save up to 15%
Wanna feel amazing? Try these gummy squares made with Delta 8 THC, a legal cannabinoid extracted from hemp. This product delivers a potent uplifting and motivating feeling with a calming body sensation for the perfect head to toe combination – without any paranoia or anxiety!
It's important to always be in a good mood, that's why we recommend MJCBD Delta 8 Gummy Squares – they help give you an energy boost without the crash of coffee or other caffeinated drinks.
BENEFITS YOU CAN EXPECT – MJCBD AFGHAN DELTA 8 GUMMY SQUARES:
Treats a variety of ailments without side effects
Immediate relief without any psychoactive effects
Relaxing and uplifting feeling from just one gummy square
No impairment of motor functions, no anxiety, no paranoia
Supports overall wellness
So many mouthwatering flavors!
Smooth, calm and mellow feeling
Calms the nerves to eliminate stress
Stimulates appetites & relieves nausea
PRODUCT DETAILS – MJCBD AFGHANDELTA 8 GUMMY SQUARES:
Rainbow mix
250mg of Delta 8 THC per serving
Each container contains 4 servings
1000mg total
Take 1/2 of a single serving daily
WHO LOVES MJCBD AFGHAN DELTA 8 GUMMY SQUARES:
Adults who want to try 100% Legal THC
Great for people who want to satisfy their sweet tooth and try different flavors
Adults who want to consume less cannabis and get the same benefits with these easy-to-take, low calorie chews.
Athletes who are looking for an uplifting, energetic feel
Adults looking for a healthy alternative to alcohol
ARE DELTA 8 GUMMIES WORTH IT?
New Delta 8 gummies are edibles with an active compound that is equivalent to the standard THC included in typical hemp flower products. They have a slightly less potent effect than regular weed, and they're among the most popular kinds of cannabis edibles.
Delta-8-THC gummies hit the market recently — making them legal products without psychoactive effects because their chemical structure differs from other types of cannabinoids.
Delta 8 gummies are a natural cannabinoid-rich food that provides sustained relief from chronic conditions.
Delta 8 gummies help maintain immune system homeostasis and fight inflammation, pain, depression, stress, anxiety, panic attacks, sleep disorders and appetite loss.
So in a word, Yes! Delta 8 Gummies are definitely worth it!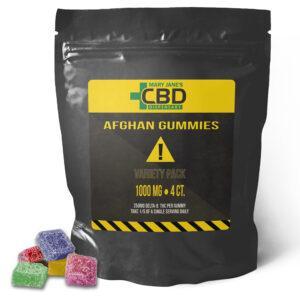 This item:
MJCBD Afghan Delta 8 Gummies 1000mg 4ct (250mg per gummy) Rainbow
$

19.99
- or subscribe and save up to 15%
$

19.99
- or subscribe and save up to 15%
$

124.99
- or subscribe and save up to 15%
$

24.99
- or subscribe and save up to 15%
23 in stock